Frankfurt Airport Transfers
door to door, fixed price, private taxi service in Frankfurt
Book your Frankfurt airport transfer with City Airport Taxis for a reliable service with comfortable vehicle at most competitive, all inclusive fare.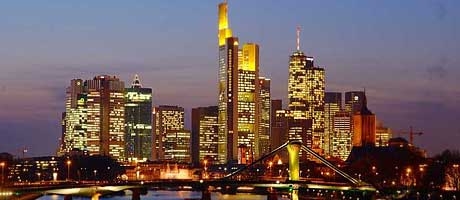 Frankfurt Airport Transfers
We provide online booking service for Frankfurt Airport Taxi Transfers at fixed prices. Meet and Greet point at Frankfurt Airport and pick up instructions will be provided in your booking confirmation. Your flight will be monitored for delays using the latest technology to ensure that you don't pay any extra waiting time costs if your flight is delayed.
Why book your Frankfurt airport transfer with City Airport Taxis?
Save time and money
Arrive to your destination faster
Have a pleasant and comfortable journey
Rent a Car in Frankfurt
Frankfurt Tours - Custom Made
Private custom tours, Frankfurt sightseeing tours, excursions and guided tours of Frankfurt are available from City Airport Taxis. For more information please visit our
Frankfurt tours page
.
Frankfurt Private Hire
Chauffeur driven vehicle hire in Frankfurt for any occasion can be pre booked with City Airport Taxis. You can also hire a minivan, minibus or a bus and a driver in Frankfurt at a fixed price. Car rental without a driver is available on request.
Executive Chauffeur Cars in Frankfurt
Executive cars, luxury coach hire and limo solutions available for corporate travel. Your business will benefit from professional and prompt service with friendly and efficient Chauffeurs.
Frankfurt Shuttle - Shared Transfers
Frankfurt airport shuttle - the shared transfer service is the cheapest way to travel from and to the airport. Shuttle from Frankfurt airport is usually available in peak season. Please use the instant quote form to check availability.
About Frankfurt
Frankfurt is the financial and transportation heart of Germany. Situated on the banks of the river Main, Frankfurt offers visitors a great deal of urban excitement, along with a magnificent skyline, a vast exhibition centre and continental Europe's largest airport.
This fascinating city is a home of the European Central Bank, the German Federal Bank, the Frankfurt Stock Exchange and the Frankfurt Trade Fair.

Opposite of the eye-catching skyscrapers, on the other side of the Main, there is a unique collection of 13 museums. At the city centre, you can find the historical Romer, Frankfurt Cathedral, St. Paul´s Church and the Goethe-House. There is no better way to see Frankfurt than from the top of the "Main Tower". Other things that you mustn't miss are the Cider Taverns in Sachsenhausen, the Shopping Street Zeil or spending an Evening at the Opera.
Frankfurt's culinary offerings are as diversified and international as the city itself. Nightlife in Frankfurt is very rich, especially when it comes to the dance-music scene.

Frankfurt Public Transportation
The suburban rail service in Frankfurt is provided by rapid transit trains (S-Bahn). Frankfurt public transport includes trams as well -there are 9 Tram lines. Frankfurt Bus transfers are not very often used, but there are several cross-town bus routes, especially in the north.
Frankfurt train stations are: the main station (Hauptbahnhof), the South Station (Sudbahnhof) and the Airport (Flughafen Fernbahnhof).
The Frankfurt Hauptbahnhof is one of the biggest and busiest train stations in Europe. Connection between Frankfurt airport and Frankfurt as well as to most German cities and some international destinations is always available. Frankfurt taxi transfer is also a very convenient way to get from Frankfurt airport to Frankfurt - private taxi can be easily booked in advance.

Frankfurt International Airport FRA - (Flughafen Frankfurt am Main or Rhein-Main-Flughafen in German) is located southwest of the city and is the busiest airport in Germany and the second busiest one in Europe. Frankfurt Airport has presently two passenger main terminals adjacent to each other - T1 & T2, and the Lufthansa First-Cass Terminal.
There is another smaller airport aproximately 120 km from Frankfurt called Frankfurt Hahn Airport (Flughafen Frankfurt-Hahn).